Transit App
The AppFactory is excited to announce our collaboration with the cities of Kenosha and Racine in creating Mobile Transit Solutions.
Our Transit apps allow users to quickly and easily locate bus routes nearby and determine their arrival time.
Need to go to a specific location? The built-in route feature lets the user to map out their trip.
ReadyBadger
Ready Badger is an emergency alert app for the state of Wisconsin. Funded by Milwaukee County Office of Emergency Management through an EPCRA (State of WI) and EMPG (FEMA) grants, this project aims to help citizens of the State of Wisconsin stay up to date on emergency information and submit damage reports in the event of a disaster.
Frank Lloyd Wright Trail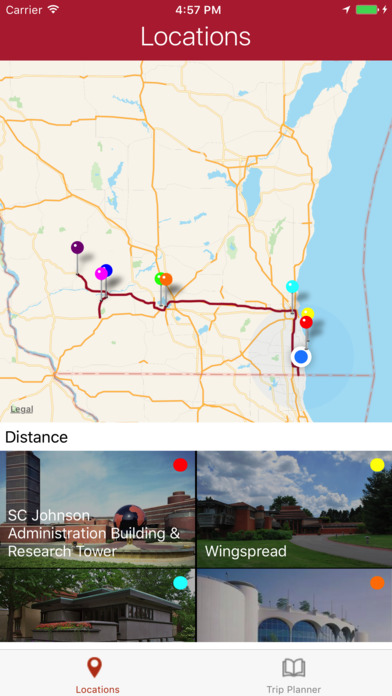 The Frank Lloyd Wright® Trail was established in 2016 to connect nine Wright-designed historical sites in southern Wisconsin. The trail takes visitors on a self-guided architectural tour through nine counties.
Frank Lloyd Wright® Trail app features:
Map
View the Frank Lloyd Wright® Trail
Discover the highlighted sites

View photos
Explore the history
Find out more
Trip Planner
Plan a trip to tour one or more sites
Suggested order to visit the sites
Scheduling information
Timeline of your trip
Tricore Timecard App
Based in Racine, WI, TriCore specializes in automating fluid manufacturing systems. Working nationwide, they needed a simple system to keep track of work hours out in the field.
Our app, developed for Android and iOS, aimed to help them cut down on paperwork and streamline their work processes.
Want to learn more about TriCore? Visit their site.
UWP Admissions App
In collaboration with the UW-Parkside Admissions Office, the AppFactory built an app to help students choose their major.
Students are able to explore all of Parkside's majors, and then download or print information on selected fields of study.
Visit Parkside's admissions office to try it out today!
WGTD
Wisconsin Gateway Technical Radio (91.9 FM) is a station that broadcasts to Racine, Kenosha, and Walworth counties.
The app is now available on both the Google Play store, and Apple store.
Be sure to check out their site!